Enzo Boglietti Discovery Case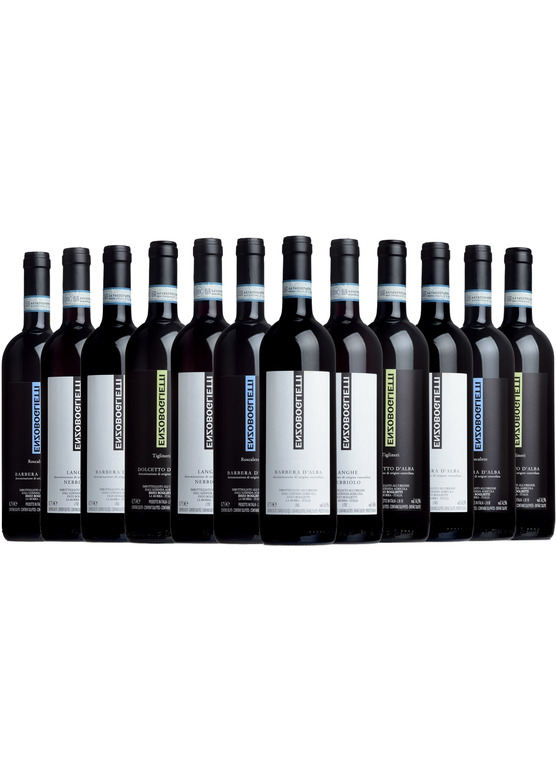 Enzo Boglietti Discovery Case
The elegant, nuanced and deliciously modern wines of Enzo Boglietti, and here, a 12-bottle opportunity to discover and enjoy three classic Piemontese varietals - barbera, dolcetto, nebbiolo - across the 2018/19/20 vintages.
2021 Barbera d'Alba, Enzo Boglietti, Piemonte
If Nebbiolo is Piedmonte's star red varietal, then Barbera surely comes a very close second. Enzo's entry cuvee Barbera is a symphony of candied raspberry and bramble fruit, crème de cassis and lifted pink petal aromas. The weight here is delicate, but the fruit impact on the palate is plush and pure, with such ripeness and direction. There is a structured, earthy core to this Barbera whilst a veil of freshness and fine tannin complete this modern, bold and expressive wine.

2020 Langhe Nebbiolo, Enzo Boglietti, Piemonte
From the moment Enzo's Langhe Nebbiolo was poured, our tasting-room was filled with aromas of rose petal, preserved red currant, smoked meat and pan grillé. So light in the glass, yet so much power on the palate, there is a pin-point purity in the generous, expansive sweet raspberry flavours and Morello cherry richness which draws the taster in. Tremendous freshness on the palate meets with generous structure, underlining a wine of great composure, backbone and ambition. Enzos baby Barolo simply could not be finer!

2019 Dolcetto d'Alba 'Tiglineri', Enzo Boglietti, Piemonte
From vineyards aged between 70-100 years old, 'Tiglineri' is Enzo Boglietti's Cru Dolcetto par excellence. Retaining similar varietal expression to his white label Dolcetto, here Enzo has created a focused, aromatically complex and intense old vine expression of the variety which highlights just how powerful and generous Dolcetto can be. The texture is like cashmere and crushed velvet with intense black cherry liqueur, strawberry preserve, blackberry and milk chocolate notes all vying for prominence. Sleek, modern and engaging, this is one of the greatest and most luxurious expressions of the variety you are ever likely to come across.

2019 Barbera d'Alba 'Roscaleto', Enzo Boglietti, Piemonte
A genuine jewel in the crown of the Boglietti holdings is the famous 'Roscaletto' vineyard in La Morra. Inherited by Enzo from his uncle, though planted exclusively with Barbera it is actually situated in prime Nebbiolo country.
There are currently no reviews for this product.
Be the first to write a review.