Enzo Boglietti Wines: Barolo and Barbera
Enzo Boglietti is indisputably one of the most modern, dynamic producers of Italy's northwest; a domain making deeply expressive wines of tremendous elegance, refinement, nuance and ageworthiness. As such, their nebbiolos, barberas and dolcettos continue to be highly sought-after. Which explains why our relationship with this family-run winery goes back so many vintages.

Which is why you have today the opportunity to add some of this modern dynamism in classic varietal expression to your collection and to immediately indulge in some serious drinking pleasure.
2019 Dolcetto d'Alba Tiglineri, Enzo Boglietti
COUNTRY: Italy
GRAPE: Dolcetto
ABV: 14%
From vineyards aged between 70-100 years old, 'Tiglineri' is Enzo Boglietti's Cru Dolcetto par excellence. Retaining similar >

MORE DETAILS
2020 Barbera d'Alba, Enzo Boglietti, Piemonte
COUNTRY: Italy
GRAPE: Barbera
ABV: 14.5%
If Nebbiolo is Piedmonte's star red varietal, then Barbera surely comes a very close second. Enzos entry cuvee Barbera is >
MORE DETAILS
2020 Langhe Nebbiolo, Enzo Boglietti, Piemonte
COUNTRY: Italy
GRAPE: Nebbiolo
ABV: 14%
From the moment Enzo's Langhe Nebbiolo was poured, the room was filled with aromas of rose petal, preserved red currant, >

MORE DETAILS
2018 Barbera d'Alba Roscaleto, Enzo Boglietti, Piemonte
COUNTRY: Italy
GRAPE: Barbera
ABV: 14.5%
A genuine jewel in the crown of the Boglietti holdings is the famous 'Roscaletto' vineyard in La Morra. Inherited by Enzo >

MORE DETAILS
Enzo Boglietti Discovery Case
The elegant, nuanced and deliciously modern wines of Enzo Boglietti, and here, a 12-bottle opportunity to discover and enjoy >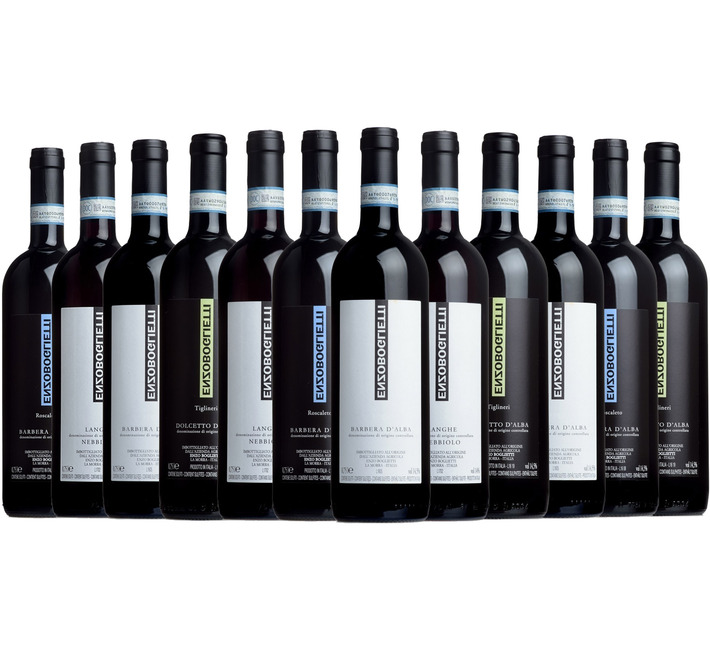 MORE DETAILS
2018 Barolo 'La Morra', Enzo Boglietti
COUNTRY: Italy
GRAPE: Nebbiolo
ABV: 14.5%
Located in La Morra with five tiny vineyards scattered amongst the Comuni of La Morra: Brunate, Boiolo, Case Nere, Fossati, >

MORE DETAILS