2018 Séguret Grande Réserve, Domaine de Mourchon, Rhône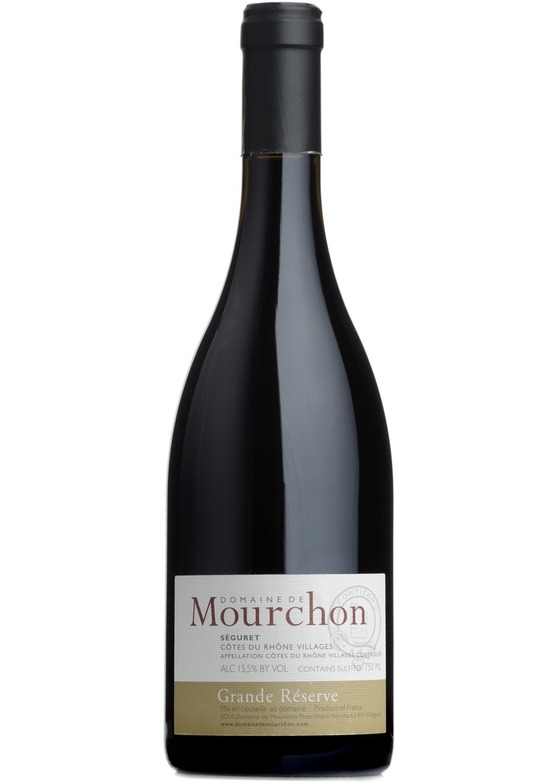 2018 Séguret Grande Réserve, Domaine de Mourchon, Rhône
Fabulous intensity in its black raspberry, liquorice, violet and peppery garrigue aromas and flavours. Full-bodied, nicely concentrated, with ripe tannins. A seriously good red from a seriously top estate.
Critic Reviews:
"I have long admired the reds of Domaine de Mourchon, situated in classic south of France setting between the medieval hilltop village of Séguret and Mont Ventoux under the Dentelles de Montmirail in the southern Rhône. Mourchon reds are so much livelier and more satisfying than, for example, supermarket Châteauneufs. Their range starts with a basic Côtes du Rhône and travels upwards via a Grande Réserve to very distinct Family Reserve varietal bottlings of old-vine Syrah and Grenache. My favourite, certainly in terms of value, is usually the Tradition, the Côtes du Rhône-Villages, Séguret that seems to me to be an excellent buy for a wine that is ready to drink when released but usually improves over two to four years in bottle, depending on the vintage." Jancis Robinson
"It's taken an outsider, English-born (to Scottish parents) Walter McKinlay to elevate the name of Séguret to international prominence in the wine world. Perhaps that's because it's a quiet, beautiful place, tucked into the foothills of the Ventoux, just north of the Dentelles de Montmirail. McKinlay purchased the place as a retirement project in 1998, and he's still going strong, anything but retired. He's even added a Châteauneuf-du-Pape to the lineup, which was reviewed in Issue 233. Contributions from winemaker Sébastien Magnouac and the rest of the team have kept the quality here consistently high over the years. The vineyards are at higher elevation than pretty much anything else in the village, which gives them a firm, sometimes angular structure suited for aging. The estate has an attractive little tasting room above the village, well worth a visit if you're in the area. "The Wine Advocate
Suitability:
/
Vegan
/
Vegetarian
punchily smooth, intense, with great finish. one to savour as the autumn advances.