Rarely have we at Mr.Wheeler seen an account transform as quickly as The Cricketers in Mill Green, near Fryerning. The change is especially remarkable because it was achieved without a shut down. In six weeks, a sleepy, dated village pub has transformed in to a great place to eat and drink, with a fine 90 bin wine list and an excellent selection of spirits and beers.
Mr.Wheeler was delighted to be involved with the first wine dinner at the venue (Wednesday 12th April), which was hosted by Walter Pretorius, the youthful and enthusiastic Head Winemaker of Sumaridge. The wines were all estate grown in the Hemel-en-Aarde ("Heaven on Earth") Valley inland from the holiday town and gourmet destination of Hermanus, an hour-and-a-half east of Cape Town. Sumaridge's vineyards are cooled by sea breezes and protected from bright sun on many mornings by fog drawn up the valley from the ocean. Thus, Sumaridge harvests six weeks or more after the warmer vineyards areas. The grapes hang on the vine for longer, and thus have superb structure underlying their elegant power. This excellence is being recognised both locally and worldwide: The 2013 Chardonnay and 2012 Pinot Noir have both been awarded the perfect 5-star ratings in the influential and respected annual Platter Guide to the wines of South Africa, and Epitome is a regular finalist in the competition for the Professor Perold Trophy for the best "Cape Blend" (of which more later).
Two wines were presented with each course, surrounded by phalanxes of vintage and signed cricket bats, historic score cards and other memorabilia. Guests were invited to vote for their favourite wine (as opposed to cricket bat).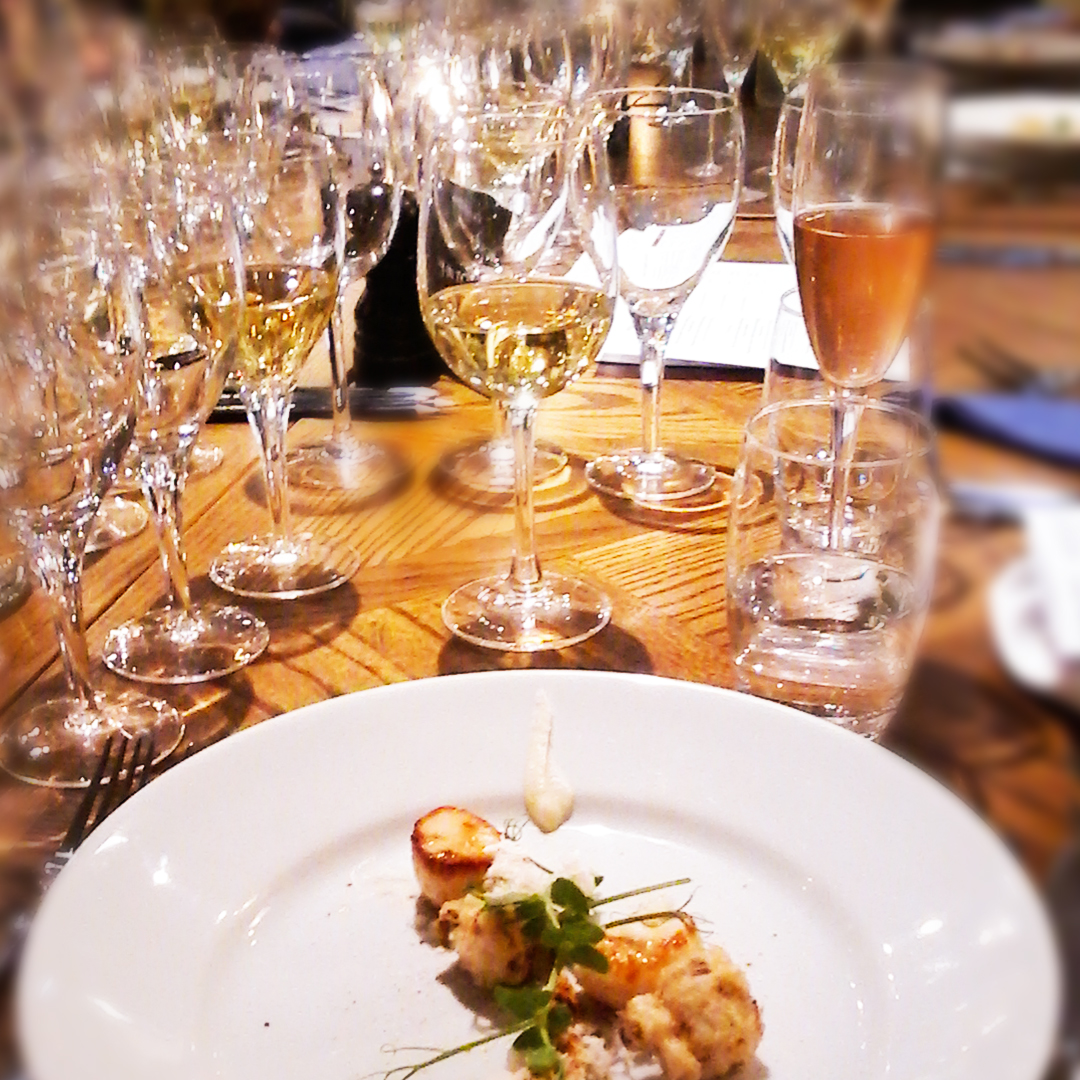 Coin toss: Wayfarer Sparkling Pinot Noir Rosé 2012 showed its capacity to match with canapes as diverse as pork belly, whipped goats cheese and West Hanningfield duck. We drank 2% of the entire world production- availability is very limited.
First Innings: Scallops with cauliflower two ways, served with:
2012 Maritimus - Made specifically to match South Africa's abundant seafood, named accordingly, and pretty good with British scallops. An unusual sauvignon blance, viognier, chardonnay, semillon blend, with richness from bottle age yet the signature Sumaridge steel and structure underneath. A percentage of sales of this wine and ancillary fund raising events have meant that Sumaridge has raised over one million Rand to pay for a new lifeboat in Hermanus. It has been named "Maritimus".
2013 Chardonnay - The Hemel-en-Aarde Valley's cool climate allows great structured Chardonnay to be made here, and Sumaridge's 2013 is the best, as evidenced by the perfect 5-star Platter rating. Tight, singing acidity with a cloak of balancing fruit.
The room was 50/50 as to which paired best with the starter.
Second Innings: "Turner and George" Sirloin steak with Portobello mushrooms, hand cut chips and a Bordelaise sauce.
James George of famous high end butcher Turner and George was on our table, and his excellent sirloin steak did not disappoint.
2012 Pinot Noir - great restrained power which has evolved beautifully in five years. Fruit supports the structure rather than distracts from it. This is a great world Pinot, let alone South African, fully deserving its five starts in the Platter Guide.
2010 Epitome - a huge contrast in styles, which was entirely deliberate on our part. The wine is a 'Cape Blend', which is defined as any wine blended with a significant proportion of Pinotage, South Africa's own grape variety. In this case it is 60% Shiraz and 40% Pinotage, creating an inky coloured, deeply powerful wine belying its seven years of ageing, which was paradoxically supple and rich textured. It is a regular on the short list of the Perold Trophy, for which a panel of experts chooses the best Cape Blends of the year.
The elegant restraint of the Pinot Noir with the steak was a joy, but we're more than happy to bow to the wisdom of the room, which narrowly chose the Epitome as the best match.
Pudding and cheese followed, matched to Wayfarer and guests' personal favourite from the balancing line-up.
We will be back at The Cricketers in Mill Green, I suspect.