The Duckhorn 'Decoy' Dozen Mixed Case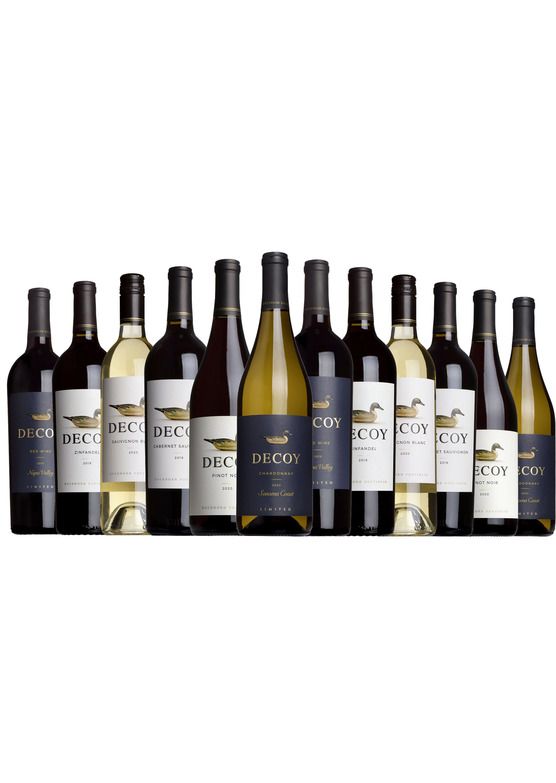 Save
£29.40
per case
The Duckhorn 'Decoy' Dozen Mixed Case
For premium wines of California, this is sensational. But what's really sensational is Decoys sheer elegance in style: juicy, fresh, beautifully balanced, deeply flavoured, full-bodied, yet also showing a certain ethereal, light-footedness. For such varietals grown is such sunny climes, these are a welcomed return to the classic, more restrained Californian style of generations past.
Lovers of Californian wines will want to do with a bit of Decoy, then. Ditto for when steaks once again sizzle on the BBQ. But if you've not experienced the serious drinking pleasure such-styled Golden State wines have to offer, we say grab a mixed case of right about now.
This mixed case includes two bottles each of the following wines. Read Jonathan Ray's tasting notes below:
2020 Duckhorn Decoy Sauvignon Blanc
"...full, rich and concentrated, with notes of orange peel, lemon, apple, melon, grass and herbs."
2020 Duckhorn Decoy Limited Chardonnay
"...theres depth and complexity here along with fresh, rich, lively, rounded citrus and white stone fruit and a long savoury finish."
2019 Duckhorn Decoy Cabernet Sauvignon
"...rich, dark and intense with hints of mint, plum, blueberry and blackcurrant, and its no surprise to learn that theres a hefty splash of softening Merlot."
2019 Duckhorn Decoy Zinfandel
"...With an added dash of Petite Sirah, theres pepper and spice on the nose and, above all, oodles of raspberry jam. And it doesnt disappoint in the mouth either, being as succulent as can be, with additional touches of vanilla and chocolate."
2020 Duckhorn Decoy Pinot Noir
"A pale cranberry red, it beckons you into its embrace with just one whiff of its fresh plumcherry fruit. One mouthful and youll be as taken as I was. Its slightly spicy with sour cherry along with the fresh, and strawberry and raspberry too."
2018 Duckhorn Decoy Limited Red Wine
"A resolutely non-European blend of Merlot, Zinfandel, Cabernet Sauvignon and Tempranillo, its crammed with violets, cherries and chocolate with yet again that signature brightness of aroma and flavour."
There are currently no reviews for this product.
Be the first to write a review.